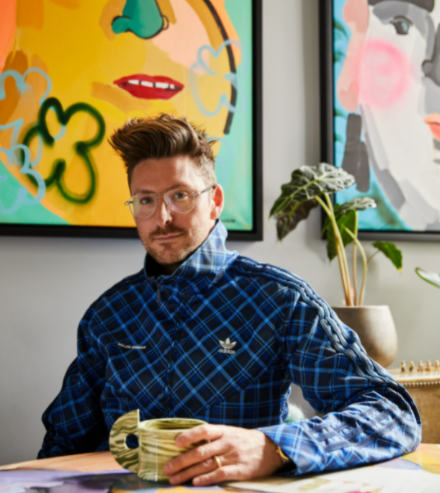 Henry Holland
Designer
Acclaimed designer Henry Holland has been designing products for fashion and interiors for the last 15 years and recently launched Henry Holland Studio.
In 2021, Henry stepped away from fashion and started taking ceramics lessons at his local pottery studio in Hackney. Initially intended only as a part-time endeavour, he quickly fell in love with the calming process of building ceramics by hand, enjoying the slower pace it offered compared to the fast world of fashion.
Exploring his own interpretation of the nerikomi ceramic technique, Henry created a signature look for his ceramics using different brightly coloured clays. This technique involves the slow method of stacking, folding and rolling differently coloured clay into slabs, then hand moulding them into functional shapes. The result was a distinctive signature aesthetic and unique hand-crafted products that led to Henry establishing Henry Holland Studio following demand from Instagram followers. His debut collection of ceramics launched in April 2021, selling out within 48 hours online, and was shortly picked up by Liberty London which launched in-store in May that year.
As well as launching its own in-house ceramic collections, Henry Holland Studio is now also working with different manufacturers in the UK to launch a series of collaborative products for different areas of the home. The first of these collaborative projects is a new textiles collection launching this month with London based FLOOR_STORY. "I have a strong strong belief that collaboration is key for small brands looking to develop a global footprint. Working with like-minded creatives will allow us to offer our customers beautiful and exciting new products for the home, as well as championing some of the best craftsmanship we have here in the UK".