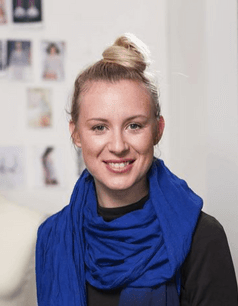 Cher Potter
Senior Research Fellow, Design Futures
Cher Potter is an LCF/V&A Museum Senior Research Fellow in 'Design Futures' tasked with addressing innovation and creative communities outside the museum environment.
As a South African design researcher and curator at the V&A, she finds herself travelling between the past and future of design on a daily basis and testifies that
design takes on an increasingly important role in education, the creative industries and national economic policies across the globe as we move towards the mid 21st Century. She strongly believes that it is imperative that the history and future canon of the subject reflects this global diversity and interdisciplinary.
As a Design Futurist, her practice has a number of applications in forecasting, research, curating and writing. Before starting at the V&A, she led the Creative
Direction at WGSN Forecasting Bureau
– the global leader in design research and
trends. Here, her reports garnered a reader ship of over 2,150,000 people within
the design industry, and became the source from which many product and fashion industry tendencies emanate today.
She curated the 23rd Impakt Arts Festival in 2012 which explored a 'postwestern turn' in arts and design
practice. She has organised design symposiums, ran
workshops and presented papers and presentations on design trends in over 22 countries.