05 Sep 2019
This year's Central Bar has been designed by our New Designers 100% Design Award Winner - Benjamin Stanton.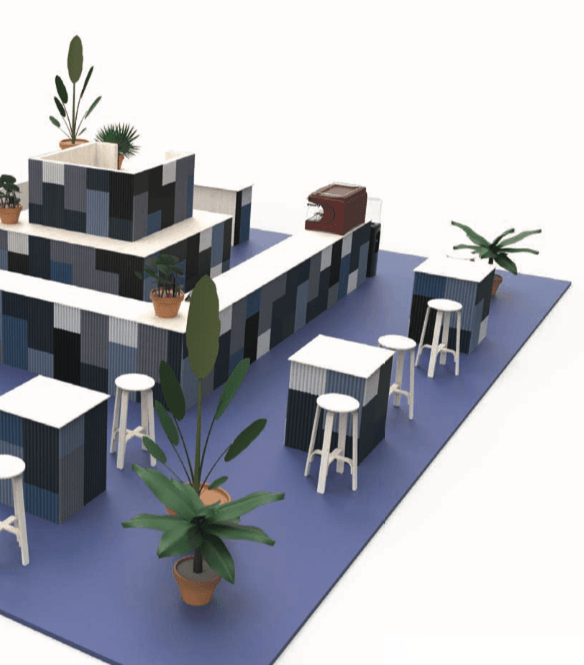 "As a designer in 2019 I am morally obligated to design sustainable products, something which I am passionate about." - Benjamin Stanton.

Benjamin's innovative use of waste denim has been applied to furniture making and now surface design to clad the entire Central Bar with waste denim donated by Levi's. The project aims to highlight problems with consumerism and raise awareness of the global impacts of the fashion and textile industries.

Is waste a design flaw?
Global waste from giant industries such as coal and oil has always been known to damage our planet and more recently the fashion industry is under the spotlight. The rate at which we are buying clothes has never been more damaging to the environment, 'Fast Fashion' is a term given to the way we consume clothing. Somewhere along the line we find it necessary to displace what we own, clothing that is still useful, but outdated, old fashioned and obsolete. We're producing more, we're buying more and we're wasting more than ever before. There is an estimated 350,000 tons of clothing that goes in to landfill in the UK annually.
What we know?
We know that the textiles industry is second to oil as the largest polluter in the world. 75% of the world's fashion market is concentrated in Europe, USA, China and Japan. In America alone there is 10.5 million tons of textile waste each year sent to landfill. Around 10% of the world's global carbon emissions are generated from the textile and clothing industry. The fashion industry is responsible for 92 million tons of solid waste annually and globally 95% of textiles that goes into landfill could have been recycled.
Is the fashion industry sustainable?
Primary research delivered some staggering facts about the true impacts of the fashion industry. This information suggests that the fashion industry is not sustainable; the system in place is simply not working. The amount of water being used and water contamination to process fabrics is damaging to human health, and the many eco systems we exploit. The environmental cost and human health risks are brushed aside just to keep up with the crazy demands of 'fast fashion' and consumerism. The time is now, the industry needs a wake up call, before it's too late for our planet to recover.
In an ideal world, we are trying to reduce waste and raise awareness by highlighting possible solutions to the fashion and textiles waste pollution with a new resource. This in turn can potentially create jobs in the recycling of fashion and textiles. Down-cycling, reprocessing and distribution facilities that help regulate waste disposal are vital as is the investment in infrastructure and technology to reduce landfill waste globally.