18 Jul 2019
New Designers 100% Design Award Winner Interview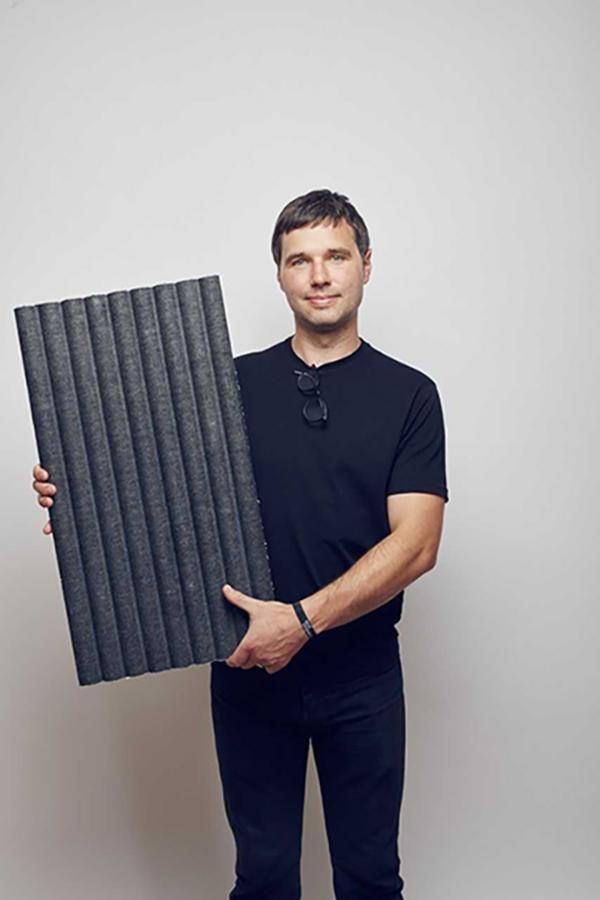 Can you describe your award winning work?
My work looks into the fashion and textile industry, and how we can harness all the waste that goes into landfill. I have sourced tonnes of waste denim, which I've then compressed with resin to make corrugated denim board. I've developed this as a functioning piece of furniture, but the plan is for it to be used as a new building material. It can be used for shelving, wall coverings and even as a roof tile.
What materials did you use for your project?
The waste denim I used was made from 100% cotton, in conjunction with a bio-based entropy super sap resin. The frame of the furniture piece was made from FSC Oak.
What was the inspiration behind your work?
I was originally going to design a chair! However, after watching a documentary about fast fashion and just how much goes into landfill, I wanted to try and create awareness around our worldwide waste epidemic. Thus, my work is an embodiment of this atrocity.
Can you describe your creative process?
Trial and error. Firstly, I sourced the material, refined the adhesive amounts and then ran a series of small tests with some little samples. Once I had found the perfect amount, everything fell into place. The denim shelves were then designed alongside the oak frame.
Tell us about your back story. Is there a personal reason behind why you're becoming a designer?
I used to do various carpentry based work, including bench joinery, cabinet making and staircase manufacture. I was also in a band called Harrisons, which were signed to a record deal for two years. Following this, I decided to enrol as a mature student at Sheffield Hallam University, where I further honed my carpentry skill and received a 1st class honours.
How did it make you feel winning this award?
If I could have picked one to win, it would have been this one. I feel so lucky and privileged! It is an amazing reward and a great accolade.
What are your further plans after New Designers?
I will spend my time working on the range ahead of 100% design trade event.