22 Aug 2019
Liqui Contracts at 100% Design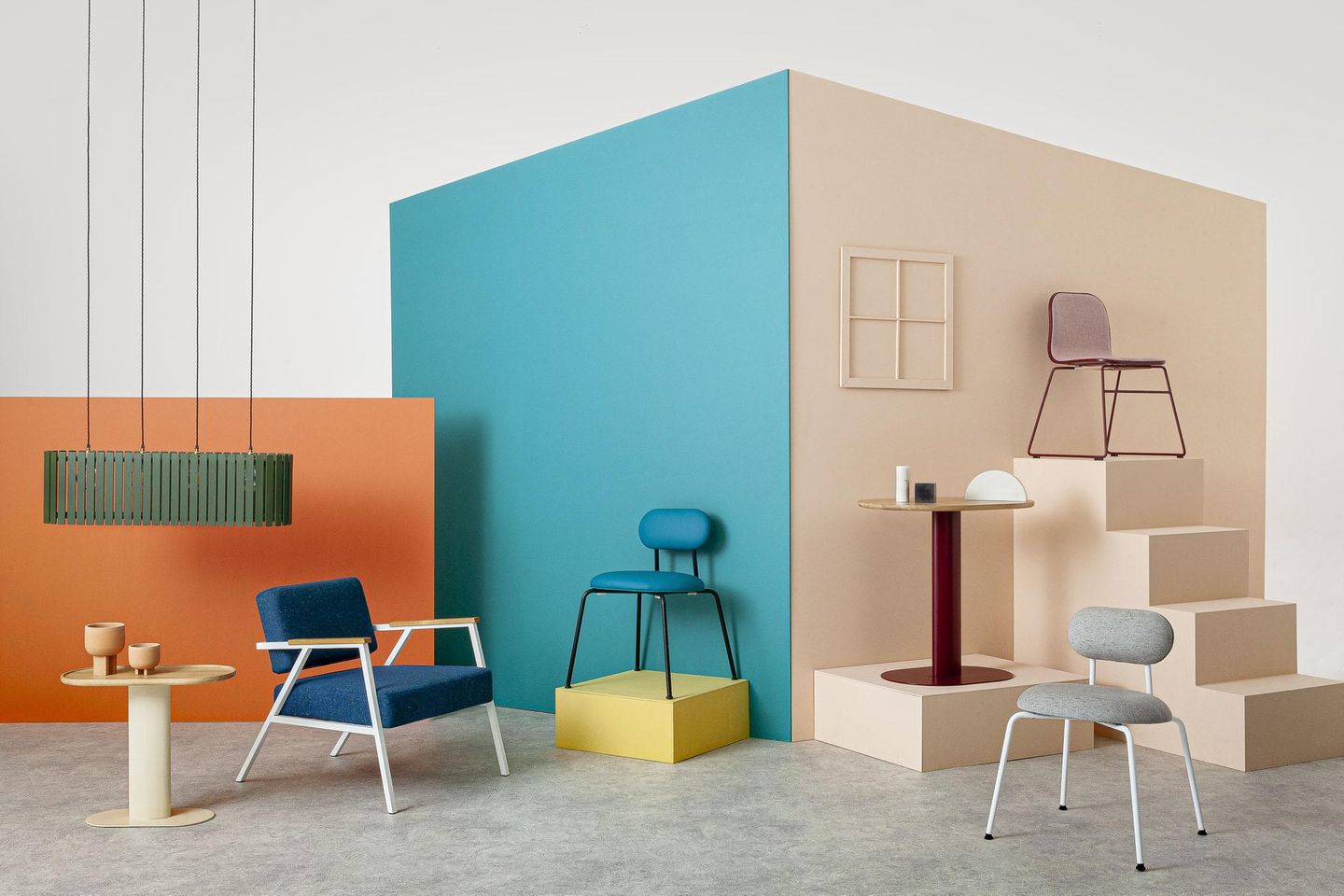 Liqui Contracts will return to 100% Design with a creative collection of new furniture and lighting, presented in an impressive, handmade wooden pavilion inspired by trees and a canopy of leaves. It's the ideal showcase for this innovative British manufacturer, whose commitment to traditional techniques, allied with a modern, sustainable approach, is capturing the imagination of a diverse range of customers.
Following months of prototyping and crafting, with sleeves rolled up and much toil at its Brighton-based workshop, Liqui Contracts will show thirteen products at 100% Design. A collection of chairs, tables, shelves and lights, these products reflect Liqui's desire to create honest, well-made, functional and aesthetic furniture and lighting.
The quirky Moore Chair and Moore Stool, with a single 'eye' placed on one side of the backrest, take their name from Patrick Moore, the eccentric monocle-wearing English astronomer. Made from formed beech ply and a steel wire frame (and available in oak veneer or upholstered versions), the characterful Moore Chair and Stool are ideal for use in coffee shops, cafes and restaurants.
The Delores Chair and Delores Stool each have a lozenge-shaped, padded backrest and seat, set on a tubular steel frame. The smart, modern dining chair and bar chair/stool offer great design versatility: upholstery is available in a variety of fabrics and leathers, and the tubular steel frame can be specified in any colour choice.
Inspired by the Milan-based Memphis movement, Georgie is a bold series of tables created with a postmodern aesthetic. The Georgie Coffee Table, Side Table and Cafe Table each consist of a wooden tabletop, metal column and base, and make an eye-catching addition to any coffee shop and restaurant. With its Japanese and Scandinavian design influences, the Shaw Shelving unit makes a handsome bookcase or display case, and takes its name from Irish playwright and author George Bernard Shaw. What's more, in Old English the word 'shaw' means 'woodland'—entirely apt, as the shelving is handmade in Britain using sustainably sourced solid oak.
The clever design of Liqui Contracts' trade stand at 100% Design will provide an exciting showcase for its work. Despite its large size, the stand's wooden structure will be open, warm and inviting; built on a larger scale, it will be noticeable from different vantage points. In creating this impressive stand, Liqui is able to highlight its creative, multidisciplinary approach: one that includes the design of contract furniture and lighting, commercial interiors, exhibitions and trade stands.
You can find more information on Liqui Contracts and the rest of our exhibitors here!