25 Aug 2017
Headline speakers announced for 100% Design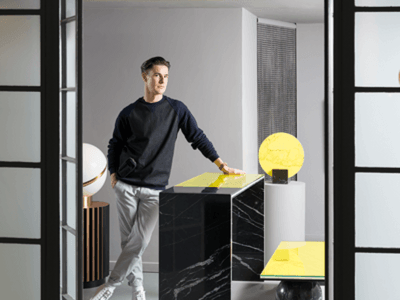 100% Design boasts the most well attended and comprehensive seminar programme in UK design, seeing more industry names and issues discussed than any other design event. This year speakers include Lee Broom, Naomi Cleaver, Ross Lovegrove, Marten Claesson, Daniel Hopwood, Adam Nathaniel Furman, Susie Rumbold and Sebastian Conran.
This year is no different, with a roster of leading figures taking to the stage at 11:00 each morning, plus trend seminars and talks on the elements of light, colour and the workplace.
Headline speakers include:
Lee Broom
11:00 Thursday 21 September, Auditorium
Lee Broom is one of the UK's leading product designers. With his highly original brand of luxury furniture and lighting designs, his work is recognised and retailed across the globe. In the last ten years since he founded his company, Broom has created over 100 furniture, accessory and lighting pieces, all of which are designed, manufactured and retailed under the Lee Broom brand. Broom has also designed products and interiors for other leading global brands including Christian Louboutin and Mulberry alongside designing over 45 commercial retail, restaurant and bar interiors, ost recently partnering with British heritage brand Wedgwood. Winning over 20 awards to date, including British Designer of the Year and The Queen's Award for Enterprise in 2015, the past ten years have seen Broom make design a successful global business with products retailed in over 250 stores in 48 countries around the world alongside his own flagship showrooms in London and New York. He appears in conversation with Max Fraser.
Ross Lovegrove
11:00, Friday 22 September, Auditorium
Inspired by the logic and beauty of nature, Ross Lovegrove's designs possess a trinity between technology, materials science and intelligent organic form. From his work in the early 80s on projects such as Walkmans for Sony and Computers for Apple, he moved to Paris as a consultant to Knoll International, becoming author of the highly successful Alessandri Office System. Invited to join the Atelier de Nimes along with Jean Nouvel and Phillipe Stark, he worked with Louis Vuitton, Hermes and Dupont amongst others. Returning to London in 1986 he has completed projects for Airbus, Kartell, Cappellini, Moroso, Luceplan, Driade, Peugeot, Issey Miyake, Vitra, Motorola, Biomega, LVMH, Tag Heuer, Herman Miller, Renault, Artemide and many more. Winner of numerous international awards his work has been exhibited at MOMA, the Guggenheim NY, Axis Centre Japan, the Pompidou Centre and London's Design Museum where he curated the first Permanent Collection in 1993. He appears in conversation with Max Fraser.
Naomi Cleaver
11:00, Saturday 23 September, Auditorium
Perhaps most widely known these days for rare sightings on the BBC's DIY SOS Naomi Cleaver is an interior designer at the forefront of British property's most dynamic housing sectors - student accommodation and large scale new build rental - where her projects have become cherished by patrons and residents alike for their sensual, occasionally mischievous and always human-centred approach. This year Naomi designed a range of wallpaper for Murals Wallpaper 'Rorschach Realm' with further signature collections across different design disciplines planned for 2018. Naomi is an ambassador for The Geffrye Museum, the museum of the home, in Hoxton, London.
The full programme will be announced shortly.