06 Aug 2019
Emerging Brands Spotlight: Herston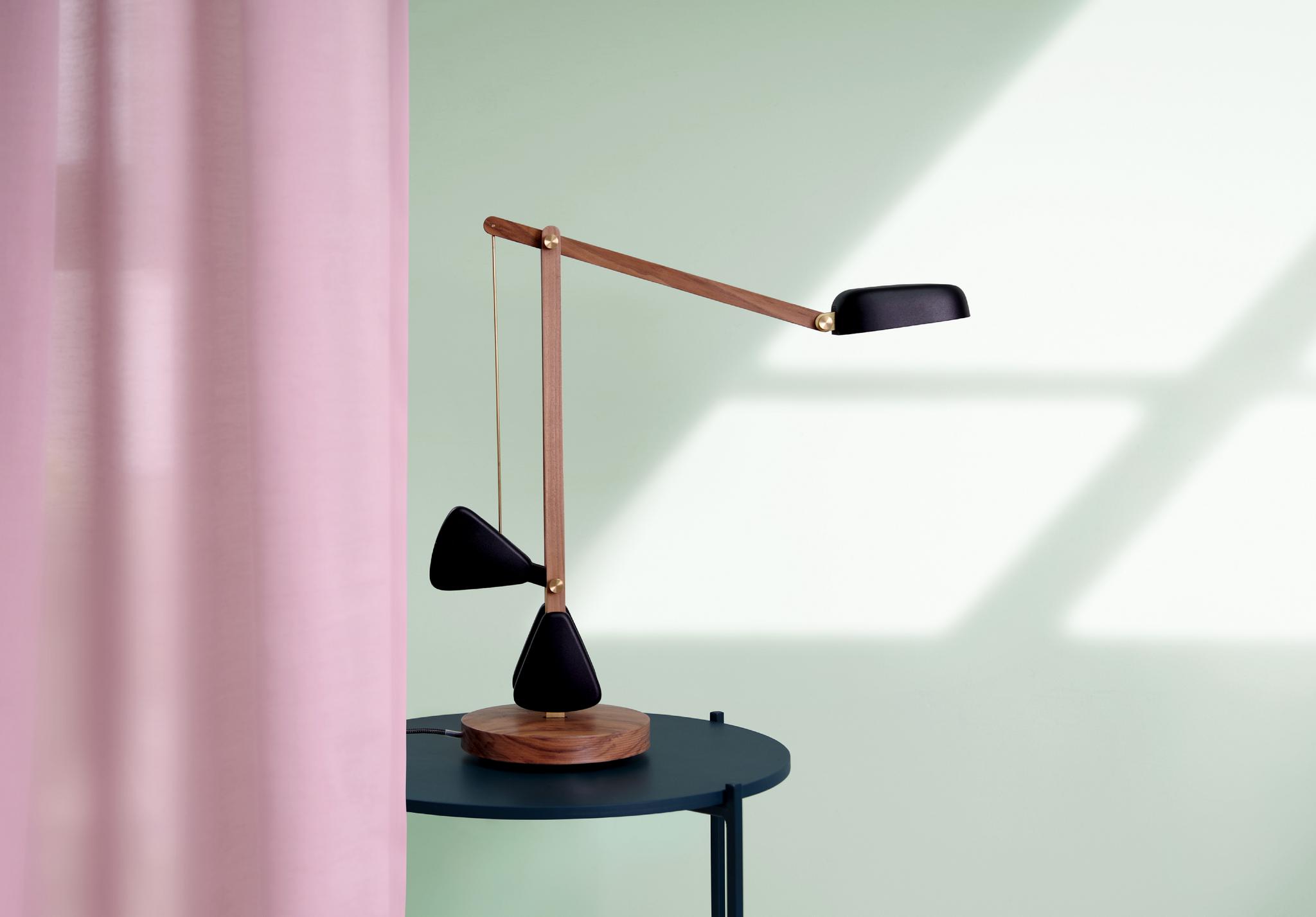 The UK's strongest platform for newly established design talent. Packed with innovative ideas, Emerging Brands follows the tradition of 100% Design's original ethos; launching new talent. Find out more about Herston, who will be exhibiting for the 25th edition of 100% Design, as they answer all of our questions below.
Herston is a premium lighting and homewares brand with the mission to create beautifully designed, highly functional and quality products that people are proud to own.
Talk us through your latest product/s:
The Self-Balancing Desk Lamp, our hero product and first to the market, combines high performance technology with sleek lines, a sculptural form and a quality that's designed to last. Its counterbalance mechanism lets you effortlessly adjust the light's position, no need for fiddly adjustments.

The simplicity of its form is aided by some pretty neat engineering. With no cords from the base to the head, we use conducting contact points and the brass detailing to conduct electricity.

Made from Oak or American walnut, it has a warmth and tactility that people are drawn to, and an aesthetic that fits into work and home environments perfectly.
What goals would you like to achieve for your company in the future?
We believe that combining genuinely useful innovation with timeless, high quality design is something that the world needs more of.

Though the next steps are to build up the lighting range, we don't want to be known as a lighting company alone.

The vision for Herston is to apply our design ethos to any objects where we feel there's an opportunity to create engaging products that people will cherish and hold onto for years to come.


Why did you choose to exhibit at 100% Design?
We launched our first product on Kickstarter last year to a resounding success. Now as we fulfil our orders, we're looking to the future and our imminent launch on the wider retail market.

100% Design offers us a great space to meet potential customers, collaborators and suppliers.
It's always a wonderful experience seeing people interact with our lamps, they have a certain magic (due to a lot of careful engineering) that people really engage with so we can't wait to share them at the show.
In contemporary society an online presence is key in order to grow your design firm – How do you utilise the internet to increase your customer base?
We have all the usual's: a website, a growing mailing list, Facebook etc., but for us, Instagram has been a key player.

And within that, content is everything!!!
We don't want a feed with endless pics of our lamp (beautiful as that would be), we want to share the start-up and manufacturing experience. We try to share snippets of our design and making process, bite-size insights coupled with nice photography to bring back some of the romance of manufacturing that I think has been lost in a world of mass-production. I think there's a real interest out there in how things are made and that's something we really believe in sharing.
What made you want to become a designer?
We're a partnership of two creatives.

Oliver: With an antiques restorer for a father, I grew up surrounded by beautiful pieces of furniture. Everything from Chippendale to Eames, giving me a passion for well-made, considered design. After getting a degree in engineering I then went to work at Dyson for several years where I saw first-hand how the design process can and should be applied to problem solving. The marriage of these two things, the craftsmanship from my father and the modern design thinking from Dyson are what form the basis of our approach.

Greta:
With a long career in digital design and user experience, I'm passionate about problem solving in all its forms and simply love design. Translating my skillset into the physical product world was a natural progression after meeting Oliver. I look at Herston from a user-centric, strategic point of view - constantly asking why are we doing this? What problems are we solving? And what will the customer experience be?
Establishing networks is important for an emerging design firm – How did you go about growing yours?
We're both lucky enough to have had long and healthy careers in our respective fields so have built up a network of people over the years who we can call on for advice and inspiration on a regular basis.

But more than anything, we are proper design nerds who love the design and manufacturing world. Being interested in what our peers are up to, how they're doing it and why means we're always meeting new people and forming new connections. There's no big strategy behind it, just genuine interest and enthusiasm.
Who's your inspiration?
Alvar Aalto
What's your favourite hotel?
St Pancras Renaissance
What 3 words sum up your brand?
Sculptural. Functional. Design.