30 Jul 2019
Emerging Brands Spotlight: DesignLAB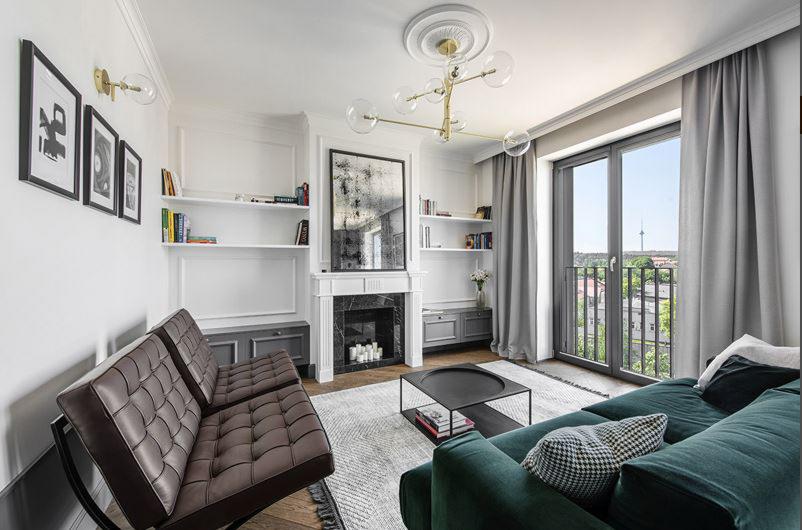 The UK's strongest platform for newly established design talent. Packed with innovative ideas, Emerging Brands follows the tradition of 100% Design's original ethos; launching new talent. Find out more about DesignLAB, that will be exhibiting for the 25th edition of 100% Design, as they answer all of our questions below.
DesigLAB provides high quality, standard and non-standard furnishing solutions for office, catering, entertainment, retail, and private spaces. We specialise in loft, eclectic, industrial, retro and Scandinavian style exclusive furniture. Their product portfolio consists of chairs & armchairs, sofas, tables, chest of drawers & shelves. Due to its simple & minimalistic design, DesignLAB products perfectly fit in both, modern and old-fashioned interiors. In addition to unique appearance, our furniture is characterised by convenience and functionality, manufacturing and selling their handicraft products all over Europe.
Talk us through your latest product/s:
MILTON is a modern interpretation of English classics because of "wings'' on the sides which were "winged'' in the 17th century in England and called "wingback chair/sofa''. Using such design with "wings'' it was possible to capture heat from the fireplace and to heat, as there was no heating, and it was often very cold in the houses. Therefore, soft and comfortable shape of MILTON is designed for relaxing near the fireplace in a calm and warm environment. The extraordinary softness and additional rear pillows that are equipped in this model will make your stay even more comfortable.
BOSTON armchair is one of the most popular selections in UK for modern interior, in light industrial style. BOSTON perfectly fits into both commercial and home environments. Its solid and strong metal frame comes in old or black metal, while its leather upholstery has been subjected to innovative dual strength nanotechnology.
This mid-century iconic LENON chaise lounge is outstandingly noticeable because of its unique appearance – as one of our customers left a feedback: "like a bunch of hotdogs, doing a workout". Impeccable, awards winning quality and shape of many cylinders comfort everyone as same as lying on the soft beach lounger. It also has a little adjustable cylindrical pillow behind the neck if needed. This chaise lounge is perfect for exclusive interior and undoubtedly leaves only positive impressions and sensations. LENON's strong features and great shape promise an ultimate comfort to its owner at home or office.
What goals would you like to achieve for your company in the future?
Talking about UK market, our first step is to open showroom in London. Talking about general company goals for nearest future, one of them is to apply eco-friendly approach in production and design processes to become more environmentally friendly. This can be achieved by giving priority to recyclable and eco-friendly materials, using reclaimed wood, replacing natural leather coating with high-quality synthetic leather, and constantly improving manufacturing techniques to make our products even more durable.
Why did you choose to exhibit at 100% Design?
We are already receiving regular orders from UK by selling online, however what we want is to get closer to British customer, to let him see, touch and test our products before purchasing it.
This will be our first time exhibiting in UK market, hence we did some research and decided that 100% Design is the best place for us to show ourselves, because
it is well-known in UK and has a strong reputation;
it is a place our target audience will be gathered under one roof;
it welcomes new and young suppliers.
During 100% Design expo we strive to present our unique, industrial inspired furniture, meet face to face with a broad amount of potential clients, and find local partners in UK.
In contemporary society an online presence is key in order to grow your design firm – How do you utilise the internet to increase your customer base?
We actively use Social Media networks (Facebook and Instagram) for raising our customer base, Google Ads, sell online to foreign markets, and keep website content fresh and try to maintain an excellent online customer service.
What made you want to become a designer?
I have started working with furniture because few years ago, I and my family faced an issue of finding suitable furniture to our home. It seemed that Lithuanian furniture centres were overloaded with furniture options, however it was really challenging for us to find what we wanted. The models didn't fit, non-standard dimensions were not available, and most of products we liked were way too expensive.
Establishing networks is important for an emerging design firm – How did you go about growing yours?
By getting projects on which we were working together with partners, by cooperating with architects and designers, by trying not to disappoint our customers, provide excellent service, meet deadlines, and always double check quality.
Who's your inspiration?
My wife and son

What 3 words sum up your brand?
Confidence, quality, authenticity