29 Jul 2019
Emerging Brands Spotlight: Condover Furniture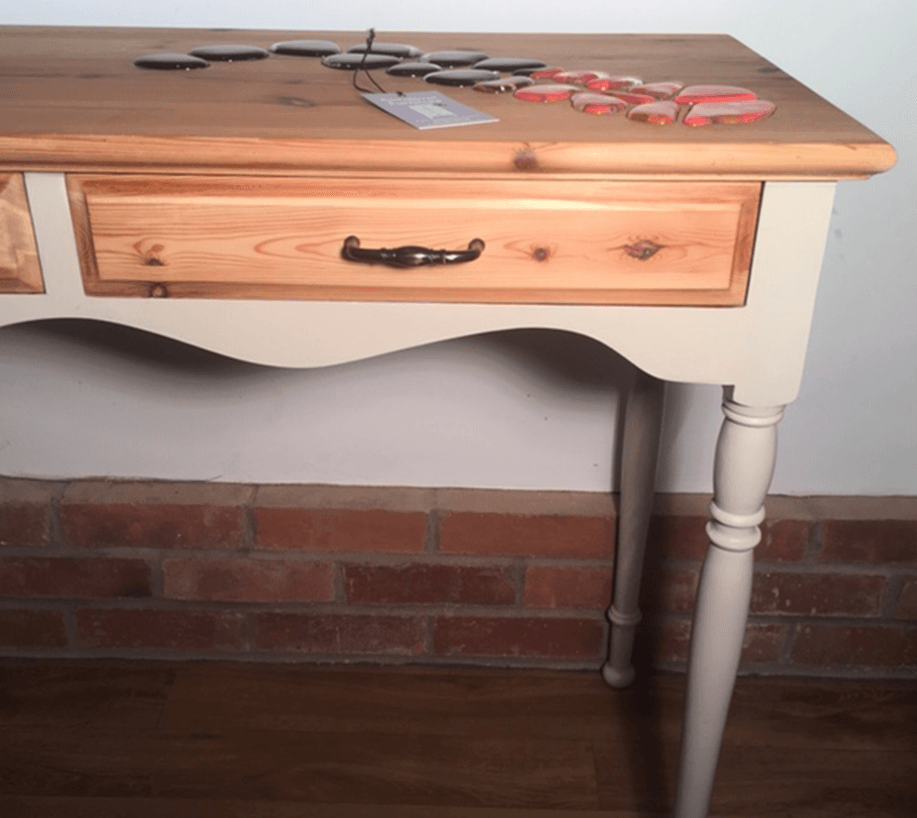 The UK's strongest platform for newly established design talent. Packed with innovative ideas, Emerging Brands follows the tradition of 100% Design's original ethos; launching new talent. Find out more about Condover Furniture, that will be exhibiting for the 25th edition of 100% Design, as they answer all of our questions below.
Condover Furniture create unique upcycled quality wooden furniture - accenting it with individually handmade pieces of beautiful coloured glass, brush painting it with top quality environmentally friendly Little Greene primers and paints and waxing it with naturally derived Osmo oils and waxes. This is environmentally friendly upcycled furniture at it's best for the eco-conscious client and consumer of today and tomorrow.
Talk us through your latest product/s:
My focus to date has been glass-embellished furniture accenting it with unique, individually hand-made Nottinghamshire and Murano glass knobs. The results are fabulous and the products have been well received. I recently partnered with Ingrid Pears, M.B.E., Glass Designer Maker, and have added a new option of embellishing the furniture with glass accents in the form of unique glass 'pebbles'. Using these beautiful glass pieces, I create unique patterns of colour on the tops and fronts of each piece and the choices are endless; doors, drawers, sides, legs, chair tops, table tops…. Whether the client prefers glass pebbles or glass knobs, or regular knobs, each choice will offer a bespoke piece of furniture that is helping the environment. As well as made to order, I also offer furniture already embellished with the glass pebbles or knobs and ready to purchase. Each glass pebble enhanced piece of furniture will be branded with a CF logo glass disc.


What goals would you like to achieve for your company in the future?
The vision for Condover Furniture is to change peoples' attitudes towards upcycling from a second rate activity to a first-rate one and through the products it offers, help the environment. Condover Furniture upcycles using only top quality products, making furniture not only beautiful but also unique and very desirable all while prolonging its life. My purpose: Britons discard more than 300,000 tonnes of reusable furniture every year and there are many nasty ingredients used and bi-products created in the manufacture of most new furniture. I would like to create sufficient demand nationwide for my unique environmentally upcycled furniture for Condover Furniture to need to employ more people, make a viable business and help all our futures. That would mean that the market is turning and people are making a more conscious decision in their purchases.
Why did you choose to exhibit at 100% Design?
I'd like to give interior designers, buyers and the general public the opportunity to see and feel a range of Condover Furniture's products and to see for themselves how good the quality of environmentally friendly furniture can be. I would also like to establish a working relationship with them with the view to partnering going forward and together helping the environment. Eco-conscious clients and consumers are and have to be our future.

In contemporary society, an online presence is key in order to grow your design firm – How do you utilise the internet to increase your customer base?
Condover Furniture launches new furniture pieces on Instagram, interacts on Twitter and has a website and online store www.condoverfurniture.com. The internet offers both Condover Furniture and customers a fabulous opportunity to connect and share.

What made you want to become a designer?
How wonderful is it to be able to use a skill or gift to help future generations and create beautiful things?
Establishing networks is important for an emerging design firm – How did you go about growing yours?
I am a member of The House of Up, the premier authority, development and support agency for professional upcyclers, elevating upcycling and creating fashion for interiors. Members chat daily on the House of Up's Facebook, Twitter and Instagram pages and meet at various events throughout the country. I also connect with other small businesses through the Twitter page for winners of #SBS, Small Business Sunday, and an award that I won in March 2019. WIRE meetings (Women in Rural Enterprise) and the Marches Growth Hub in Shropshire both offer a wealth of support and networking opportunities. By exhibiting at 100% Design, I am hoping that my network will increase even further and my name and the respect for my company and its values will grow among interior designers, buyers and the public and environmentally friendly upcycled furniture will flourish.
Who's your inspiration?
William Kamkwamba (book not movie!), Gary Vaynerchuk and my father
What 3 words sum up your brand?
Unique, environmentally friendly, cool