25 Jul 2019
06D Atelier to present for the first time in the UK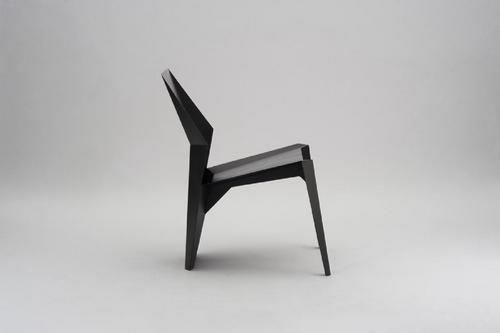 At 100% Design, 06D Atelier present the Matt Edition from the Thinness Collection for the first time in the UK. This is their first furniture collection both designed and self-produced by Atelier together with Italian craftsmen.
The Thinness Collection is a journey into lightness, with furnishing elements made entirely of very thin steel plates, which are then folded, welded, ground and finished by hand. The Thinness Collection is a collection of sculptural furniture, made entirely in Brianza, Italy. This is the province with the highest design content in the world of furniture, renowned for its careful workmanship that is a tribute to the Italian craft tradition.
The collection includes the Centaurus sculptural chair, Pegasus coffee table, Perseus side table and Orion Chandelier. The Matt Edition, with a sprayed finish in customisable colours, is presented for the first time in the black version named Materia Obscura. The Gold Edition is available in a limited edition of 33 signed and silkscreened pieces, featuring a handmade finish with a gold galvanised treatment.
06D Atelier will also bring projects born from the new collaboration with Fine Marble & Tiles, a new brand of luxury furnishing accessories based in Switzerland. This will be feature the Kayan tables, a collection of precious side tables inspired by the rings that adorn the necks of the Kayan women from a Burmese population. They are made with fine materials such as brass, polished steel, Sky Gold and Azul Macaubas quartzite stones, all produced in Italy.
Finally, 06D Atelier will exhibit for the first time ever The Orbit, their first piece of the new Griffé Collection. This is circular set of glass mirrors inspired by graphic arts. The glass surface is treated like a canvas thanks to a material-removal machining process, which conveys the designer's gesture into different expression at each piece. The Orbit is a genuine art piece, with grooves representing the concentric pattern common in several structures throughout the natural world.